ALI KAAF
"DIE BYZANTINISCHE ECKE"
APRIL 2018
Ali Kaaf – Die byzantinische Ecke
21. April – 26. Mai 2018/April 21 – May 26, 2018
Vernissage: Freitag, 20. April 2018, 19-21 Uhr/Opening: Friday, April 20, 2018, 7-9pm
Gallery Weekend – Sonderöffnungszeiten: Fr. 27. April 12-21 Uhr; Sa. 28. April 11-19 Uhr; So. 29. April 11-19 Uhr
Gallery Weekend – Opening hours: Fri. April 27, 12-9pm; Sat. April 28, 11-7pm; Sun. April 29, 11-7pm
Zusatzevent: Termin folgt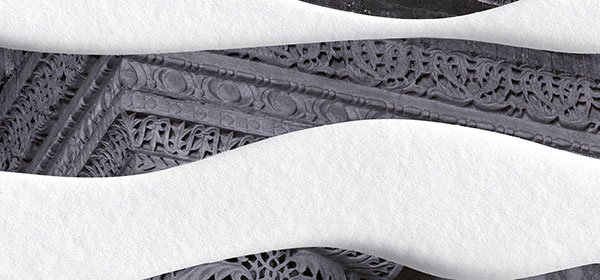 Ali Kaaf, Die byzantinische Ecke I (Detail), 2018
Foto, Inkjet Print mit Einschnitten auf Hahnemühle Barut Satin Papier, Auflage 3
photo, inkjet print with incisions on Hahnemühle Barut Satin paper, Edition 3, 130 x 86 cm
Der multimedial arbeitende syrisch-deutsche Künstler Ali Kaaf wurde im Jahr 2016 in Berlin zum einen mit seiner Raum- und Videoinstallation "The Box of Pain" im Kühlhaus und zum anderen mit der Präsentation von Papierarbeiten und Glasskulpturen in der Bumiller Collection – University Museum Islamic Art institutionell gewürdigt. Wir zeigen in der zweiten Galerieausstellung mit Ali Kaaf neue Papier- und Fotoarbeiten.
Seinen Fotomontagen- und Collagen der Reihe "Die byzantinische Ecke" liegen Fotos aus der Hagia Sophia in Istanbul zugrunde, in denen die Ecke als tragendes architektonisches Element, das gleichermaßen Intimität vermittelt, den künstlerischen Ausgangspunkt bildet. Die historische Entwicklung der Hagia Sophia von einer byzantinischen Kirche über eine Moschee zum heutigen Museum dient dem Künstler als Metapher für den prozesshaften Austausch und Wandel zwischen den verschiedenen Welten und Kulturen, die von außen beeinflusst werden und sich beidseitig verändern. Formal interveniert Ali Kaaf in die Fotografie mittels Collage und verschränkt die architektonischen Gegebenheiten der Hagia Sophia mit abstrakten dynamischen Formen.
Damit betont er das Ineinanderfließen von Unterschiedlichem, das keine scharfen Abgrenzungen kennt und zu einem vielschichtigen Ganzen, einem neuen (Gedanken)raum wird. Diese Vorgehensweise findet sich bereits in seinen Tuschearbeiten der Rift-Serie, in denen zwei Papiere entweder reißend oder ausbrennend miteinander verbunden werden. Auch aus dieser Reihe zeigen wir die neuesten Werke. Ergänzt wird die Präsentation mit Glasskulpturen, wobei er dem mundgeblasenen Glas durch gekonnte Materialexperimente einmalige ineinanderfließende Strukturen abgewinnt. Die künstlerische Suche nach Erkenntnis, neuen Horizonten und den Tiefen der Existenz vereint alle unterschiedlichen Medien und ist Antriebsfeder für das nächste Werk. Mittels der fragilen Materialität von Papier und Glas sucht der Künstler nach Stabilität.
1977 geboren in Algerien; lebt und arbeitet in Berlin; Studium der bildenden Kunst am Institut des Beaux–Arts Beirut und an der Universität der Künste (UdK) Berlin bei Marwan und Rebecca Horn; seit 2016 Lehrauftrag an der Kunsthochschule Weißensee Berlin in der foundationClass; Preise: 2004 DAAD Preis der UdK Berlin, Artist-in-Residence, Kala Art Institute, Berkeley u. a.; Ausstellungen: 2017 "Syria: Into the Light", Atassi Foundation, Dubai; 2012 "Hollowing Light", Custer County Art & Heritage Center, Miles City, USA; 2004 "Taswir – Islamische Bildwelten und Moderne", Martin-Gropius-Bau, Berlin u. a.
Werke in Sammlungen: The Khalid Shoman Foundation Darat Al Funun, Amman; Sammlung Peter Raue Berlin; Moontower Foundation Rebbecca Horn; Museum für Islamische Kunst, Berlin; MAXXI – Nationalmuseum für die Kunst des XXI. Jahrhunderts, Rom u. a.
PresseEcho
Der Tagesspiegel, Mehr Berlin, Ali Kaaf
Nafas Art Magazine – Ali Kaaf: The Byzantine Corner
1977
Syrer, geboren in Oran, Algerien/Syrian, born in Oran, Algeria
1994-1998
Studium der bildenden Kunst am Institut des Beaux–Arts Beirut/studied fine arts at Institut des Beaux–Arts Beirut
2000
Sommer Akademie bei/studied fine arts with Marwan Kassab Bachi, Darat al Funun, Amman, Jordan; Studium der bildenden Kunst an der Universität der Künste (UdK) Berlin bei Marwan/studied fine arts at UdK Berlin with Marwan
2002-2005
Studium der bildenden Kunst bei Rebecca Horn, Universität der Künste (UdK) Berlin/studied fine arts at UdK Berlin with Rebecca Horn
2015
"Intima" (Tanzprojekt/Dance Project)), kuratorische Zusammenarbeit mit/in cooperation with Choreograph Gregory Dawson und/and company Dawson Dance SF, San Francisco
2016
Lehrtätigkeit an der/lectureship at Kunsthochschule Berlin-Weißensee, foundationClass, Berlin
lebt und arbeitet in Berlin/lives and works in Berlin
Preise und Stipendien/Awards and scholarships
2015
Artist-in-Residence, Kala Art Institute, Berkeley, CA
2014
Honorary AIR Awardees, Kala Art Institute, Berkeley
2010
Young Collectors for MAXXI 2010, Young Collectors Association - Fair ROMA. The Road to Contemporary Art, Rome
2005-2006
Solidere's Artists in Residence Program, Beirut
2004
DAAD-Preis der UdK Berlin/German Academic Exchange Service (DAAD) Prize for Outstanding International Students, assigned by UdK Berlin
Einzelausstellungen (Auswahl)/selected solo exhibitions
2018
"Die byzantinische Ecke", C&K Galerie, Berlin
"Dins un garbell no es pot guardar el sol", Galeria Maior, Palma, Spanien/Spain
2016
"Box of Pain", Kühlhaus Berlin
"Ali Kaaf – The Colour of The Water is The Colour of its Vessel", The Bumiller Collection, Studio Berlin
"Ali Kaaf – Unsilenced", Pacific Felt Factory, San Francisco, CA
2015
"Ali Kaaf – Papier und Glas", Kunsthaus Langenberg – Alldiekunst, Velbert, Germany
2014
"RISS" (mit/with Said Baalbaki), C&Kunterwegs Galerie, Berlin
"Scherben Mantra", Bomb Gallery, Mostar, Bosnien/Bosnia
2013
Mihrab, Moontower Foundation, Bad König-Zell, Germany
"Paper and Glass", Salon Neucologne, Berlin
2012
"Hollowing Light", Custer County Art & Heritage Center, Miles City, USA
2010
"Fragile Strength", Yellowstone Art Museum, Billings, USA
"Gubar", Gallery Rafia, Damascus, Syrien/Syria
2009
"Eclipse", Galleria Marie-Laure Fleisch, Roma
2008
"Oh nein Oh", Gallery Naprzeciw, Poznan, Polen/Poland
"RAS RAS/Der Schwarze Garten", Galerie Sakamoto Contemporary
2007
"Schwarz", Galerie Haus am Lützowplatz, Berlin
2006
"Ali Kaaf, Discovery Planet", Solidere, Beirut
"Ali Kaaf, Khan Ashad-Bacha", in collaboration with the Goethe-Institut Syrien Damaskus, Syrien/Syria
2004
"Aswad", Darat al Funun, Khalid Shoman Foundation, Amman, Jordan
Gruppenausstellungen (Auswahl)/selected group exhibitions
2019
"FOURFOLD Positions from Berlin", Salon Galic, Split, Kroatien/Croatia
"A Journey of Belonging - Part II", CAACONTEMPORARYARTSALLIANCEBERLIN, Bikini-Haus, Berlin
2018
"Caravane Culturelle Syrienne", Kunstverlag Galerie Till Breckner, Düsseldorf, Germany
"Hommage à Marwan", Galerie Pankow, Berlin

2017
"Syria: Into the Light", Atassi Foundation, At Concrete-AIserkal Avenue, Dubai
2016
"The Red Gaze", curated by A. S. Bruckstein Çoruh, Zilberman Gallery, Berlin
"As If, At Home", Artists in Europe, Box Freiraum, Berlin
"Clearly Ambiguous", SMAC, Berlin
2015
"Mixed Pickles", C&Kunterwegs Galerie, Berlin
"Ortstermin mit Leoni Wirth - Modelle und Entwürfe aus dem Atelier von Leoni Wirth und zeitgenössische Positionen zu Abstraktion und Moderne", Kunsthaus Dresden, Dresden, Germay
"Living with endangered Languages in the information age", Root Division, San Francisco
"Hidden Treasures" - I AMsterdam you BErlin, Sankt-Johannes-Evangelist-Kirche, Berlin
2014
"Be my guest", Galerie E.G.P, Paris
"Kunststoff Syrien 2014", Forum Factory, Ber"Kunststoff Syrien 2014", Forum Factory, Berlin
"Scherben Mantra", official selection, Alfilm - Arab Filmfestival, Berlin 2013
2013
"Syrian Diaries", Korridor No. 33, Kopenhagen, Dänemark/Denmark
"SyriArt, Institut du Monde Arabe", Paris
2012
"Kunststoff Syrien", Forum Factory, Berlin
"Maribor Project - Rebecca Horn and Guests", Contemporary Art Museum, Maribor, Slowenien/Slovenia
"Arrivi e Partenze 2012", Mole Vanvitelliana, Ancona, Italien/Italy
2010
"Moontower Foundation", Bad König-Zell, Germany
"FestArte", Video Art Festival, (Section OFF), MACRO, Museum of Contemporary Art, Roma
"Spiegel im Spiegel", Horb am Neckar, Germany
"Glass Works", Global Health Equity Foundation, San Francisco, USA
2009
"Taswir – Islamische Bildwelten und Moderne", Martin-Gropius-Bau, Berlin
"Ode", Kommunale Galerie Berlin, Berlin
2008
"Rites of Passage", Galería Maior, Pollença, Spanien/Spain
2007
"Flowing Times", Galerie Schüppenhauer, Köln
"Back and Forth", Villa Grisebach, Berlin
"Château Ivre", Schloss Sacrow, kuratiert von/curated by Rebecca Horn, Potsdam, Germany
2005
"Haus im Körper", Galerie Haus am Lützowplatz, Berlin
"Durchzug im Löwenpalais", Stiftung Starke, Löwenpalais, Berlin
2003
"213", UdK Berlin
2002
"UdK - Beaux Arts", Sciences Politiques, Saint-Germain, Paris
"Montags", Klasse Marwan 1977-2002, UdK Berlin
Sammlungen/Collections
The Khalid Shoman Foundation Darat Al Funun, Amman, Jordan
Collection Solidere Beirut, Libanon / Lebanon
MAXXI - Museo nazionale delle arti del XXI secolo, Roma / MAXXI - Nationalmuseum für die Kunst des XXI. Jahrhunderts, Rom
Moontower Foundation, Frankfurt am Main
Museum für Islamische Kunst, Berlin
Peter-Raue-Sammlung, Berlin
sowie internationale Privatsammlungen/and international private collections
Bibliografie/Bibliography (ausgewählt/selected)
2017
Syria: Into The Light, Selection of Portraits and Figures in Syrian art from the Collection of the Atassi Foundation, Dubai
2016
The Red Gaze, hrsg. von/ed. A.S. Bruckstein Çoruh und/and Lotte Laub Berlin
Ali Kaaf:The Colour of Water is the Clour of its Vessel, hrsg. von/ed. The Bumiller Collection Berlin-Bamberg
Ali Kaaf in: KWER - Magazin der Abstraktion, Nr.1 (Eins), Berlin
2014
Maribor Project - Rebecca Horn and Guests, hrsg. von. /ed. Ifa, Moontower Foundation, Galerija Maribor
2013
Doris von Drathen: Ali Kaaf, in: Kuenstler – Kritisches Lexikon der Gegenwartskunst, (Ausgabe Nr. 104, Heft 22, Quartal 2013), hrsg./ed. Detlef Bluemler, Lothar Romain, München, Germany
2010
Alexandra von Stosch, Dramaturgie der Zeichen, in: Gubar, hrsg./ed. Galeria Rafia, Damaskus
Spiegel im Spiegel, hrsg./ed.Kunstverein Oberer Neckar, Horb, Germany
2009
Taswir – Islamische Bildwelten und Moderne, Ausstellung im Martin-Gropius-Bau, Berlin, hrsg. von/ed. Almut Sh. Bruckstein Çoruh
Anke M. Ulrich in: Ode, hrsg./ed. Kommunale Galerie, Berlin
2006
Ali Kaaf, hrsg. von/ed. Solidere Beirut