ANDREAS AMRHEIN
HEROES JUST FOR ONE DAY
JULY 2018
Andreas Amrhein – Heroes Just For One Day
13. Juli – 25. August 2018/July 13 – August 25, 2018
Vernissage: Freitag, 13. Juli 2018, 19-21 Uhr/Opening: Friday, July 13, 2018, 7-9 pm
Öffnungszeiten im August: Dienstag-Freitag 14-18 Uhr, Samstag 12-16 Uhr
Opening hours in August: Tuesday to Friday 2-6 pm, Saturday 12 am-4 pm
Zusatzevent: Finissage am Freitag, 24. August 2018, 18-21 Uhr/Friday, August 24, 2018, 6-9 pm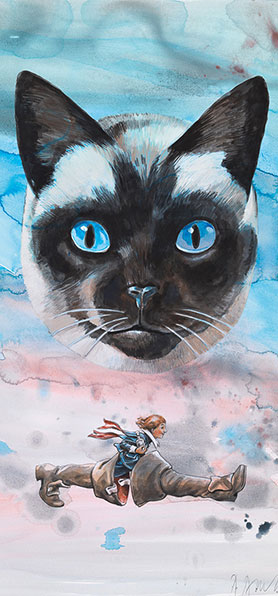 Andreas Amrhein, Eight Miles High (Detail), 2018
Acryl auf Bütten/acrylic on handmade paper, 70 x 50 cm
For the past 25 years, Andreas Amrhein has been firmly rooted in the art world with his Pop Art related pictorial worlds, in which he samples personal memories with icons from the comic and advertising worlds. In our third solo exhibition with the artist, we present current works in which portraits appear for the first time.
The exhibition title, the David Bowie song "Heroes Just For One Day", describes this programme. The desire to leave reality behind and to emulate the heroic deeds of his icons drives the characters in Amrhein's turbulent image scene into an exaggerated identification so that they turn themselves, for example, into a figure like Captain America. The everyday world and the imaginary world of heroes merge smoothly into one another and the watercolour-like, delicate appearance of many works on paper immerses even image motifs such as fighter jets in a pleasant dream world. But the artist, with contradictory pictorial elements and his gestural-impulsive brush stroke, creates some disturbance with his ideas. He skips and mixes unrestrained and humorous historical periods and borders. The ironic reflection on heroism and its attributes includes motifs like the historical vaulter at the court of Louis XIV as well as the UN soldiers of our time. Once again, the artist combines the seemingly trivial and contradictory to his own storyboard, in which social and social changes, but also the human, are exposed in a playful way. Not least due to the flood of digital images and the self-optimization of their own profiles in our present culture of selfies, upon which Amrhein casts a skeptical glance.
The exhibition is accompanied by a publication with reflections by different authors on particular works (for example by Cornelia Schleime, Tan Ping and Christine Heise).
Born in 1963 in Marburg; Childhood in Liberia / West Africa; 1985-1992 studied fine arts at the Hochschule der Künste Berlin; 1992 master class with Walter Stöhrer; Study visits to London, Malmö, Chicago; Scholarships et al.: Lofoten, Paris, China; Collections et al.: Kupferstichkabinett Berlin, Berlinische Galerie, Museum of Modern Art, Berlin; Museums of the City of Malmo, Sweden, The Art Institute of Chicago, Illinois, USA; Museums of the City of Bamberg; Montblanc Collection Beijing.
Press
On Air – rbb kulturradio – Andreas Amrhein "Heroes Just For One Day"
Andreas Amrhein in Berlin, kunst:art – kunstmarkt spezial, Juli-August 2018, Nadja Naumann (German)
1963
geboren in Marburg/born in Marburg, Germany
ab 1985
Studium der Freien Kunst an der Hochschule der Künste Berlin (HdK) bei Barbara Heinisch und Walter Stöhrer/ studied painting at HdK with Barbara Heinisch and Walter Stöhrer
1988
Studienaufenthalt an der / study semester at Slade School of Fine Art, University College, London / U.K.
1989
Gastsemester an der / guest at Grafikskolan Forum, Malmö, Schweden/Sweden
1990
Semester an der / semester at School of the Art Institute of Chicago / USA
1992
Meisterschüler an der /with Hochschule der Künste Berlin (HdK) Walter Stöhrer
1996-2004
Lehrauftrag für Radierung/lectureship, FBK, Freie Akademie für Kunst Berlin
seit/since 2005
Lehrtätigkeit an der/lectureship at Akademie für Malerei Berlin
 
lebt und arbeitet in Berlin / lives and works in Berlin
Preise und Stipendien/Awards and scholarships
2018
Artist in Residence, China National Printmaking Museum, Guanlan, China
2010
Artist in Residence, Caochangdi, Beijing, China
2002
Stipendium der / graduate scholarship at Aldegrever Gesellschaft, Provence, Frankreich/France
1999
Stipendium / graduate scholarship Cité Internationale des Arts, Paris
1997
Stipendium der / graduate scholarship at Aldegrever Gesellschaft, Lofoten, Norwegen/Norway
1990
Kunstpreis der / award of 9. Internationalen Grafik Triennale, Frechen, Germany
Einzelausstellungen (Auswahl)/selected solo exhibitions
2022
"Kann man so machen" mit Hermann Reimer, Westphal, Berlin
2021
Andreas Amrhein, Weingut Georg Müller Stiftung, Hattenheim, Germany
2020
"Time is on my side", C&K Galerie, Berlin
"Und immer wieder geht die Sonne auf" mit Marc Taschowsky, Galerie Kramer, Bremen, Germany
2019
"Malerei" /mit Julius Weiland Glasskulpturen, Kunstkabinett Regensburg, Regensburg, Germany
"Malerei", Kunstverein Wesseling e.V., Wesseling, Germany
2018
"Heroes Just For One Day", C&K Galerie, Berlin

"Heldenhaft & Unzerbrechlich" mit Julius Weiland, Galerie 2106, Ravensburg, Germany
2017
"The World starts turning", Kunstverein Fröndenberg , Fröndenberg, Germany
2016
"The kids are all right", C&K Galerie, Berlin
"Days of miracle and wonder", Cornelia Genschow Galerie, Bonn, Germany
2015
"Glänzende Aussichten" (mit Peter Hermann), Kunstkabinett Regensburg, Regensburg
"Feels like home" (mit Matthias Stuchtey), Galerie Peter Borchardt, Hamburg
"Andreas Amrhein - Neue Arbeiten", Galerie Bodek, Hannover
2014
"Suddenly everywhere is the same place", CundKunterwegs Galerie, Berlin
2013
"Kings and Little Big Men", Raum für Kunst und Natur, Bonn, Germany
2012
Kunstkabinett Regensburg, Regensburg, Germany
2011
"Storyteller", Frankfurter Kunstkabinett Hanna Bekker vom Rath, Frankfurt am Main, Germany
"Chinois!", Alexander Ochs Galleries, Berlin
"Suburbia", Galerie Borchardt, Hamburg, Germany
2010
"Good Friends", Alexander Ochs Galleries, Berlin
2009
Galerie Bodek, Hannover, Germany
2008
"Rapper`s Delight", schultz contemporary, Berlin
2007
"European Love Letters", Michael Schultz Gallery, Seoul, Korea
2006
"Großes Kino", Galerie Michael Schultz, Berlin
2005
"Berg und Tal", Kunstverein Bamberg und Kunstverein Talstraße, Halle/Saale, Germany
2004
"Kein schöner Land", Galerie Weilinger, Salzburg, Austria
"Wahre Werte", Galerie Michael Schultz, Berlin
2003
"Chicken Run", Galerie Peter Borchardt, Hamburg, Germany
2002
"La Provence des villages", Galerie Bodek, Hannover, Germany
"Tout va bien", Galerie Helmut Leger, München/Munich, Germany
2001
"Le roi qui rît", Galerie Bodek, Hannover, Germany
"Some work, some play", Galerie Michael Schultz, Berlin
2000
"Le roi qui rît", Kunstverein Salzgitter, Salzgitter, Germany
1999
Kunstkabinett Regensburg, Germany
Galerie Peter Borchardt, Hamburg, Germany
1998
Galerie Horschik und Schultz, Dresden, Germany
"The soundless singing sea", Galerie Michael Schultz, Berlin
1997
Werkstatt Galerie, Bremen, Germany
Galerie Bodek, Hannover, Germany
1996
"But everything else goes on", Galerie Michael Schultz, Berlin
1995
Galerie Gleditsch, Berlin
1993
Galerie Bodek, Hannover, Germany
1991
"Andreas Amrhein – Arbeiten aus Chicago", Galerie Janz, Öhningen, Germany

"Kunstpreis Junger Westen '91" (für Graphik), Kunsthalle Recklinghausen, Recklinghausen, Germany

1987
"Kunstpreis Junger Westen '87" (für Zeichnung), Kunsthalle Recklinghausen, Recklinghausen, Germany

Gruppenausstellungen (Auswahl)/Selected group exhibitions
2022
"STRETCHING THE EYES TO A NEW HORIZON", Galeria Sacchetti, Ascona, Schweiz/Switzerland
"Wald. Wolf. Wildnis.", Kunststation Kleinsassen, Kleinsassen, Germany
2020
10 Bienal Internacional de Gravura do Douro, Vila Nova de Gaia, Portugal
"Wald. Wolf. Wildnis.", Die Neue Galerie im Haus Beda, Bitburg, Germany
2019
"Die haben einen Vogel - Die Vogelmänner von Istanbul" 30 Jahre Galeristin, eine Jubiläumsausstellung von Christiane Bühling-Schultz, C&K Galerie Berlin

"Summer in the city", Galerie Rother Winter, Wiesbaden, Germany

2017
"ART-APPEAL Gefühle?Ja bitte! Zeitgenössische Kunst trifft Salonmalerei und Kitsch aus der Sammlung Klewan, München", Kunsthalle "Talstrasse", Haale (Saale), Germany

The 6th Guanlan International Print Biennial China, Chinas Printmaking Museum, Guanlan, Shenzhen, China

TIERISCH BESTE FREUNDE Über Haustiere und ihre Menschen, Deutsches Hygienemuseum Dresden, Germany

2016
3. Berlin Becher Triennale, kuratiert von/curated by Julius Weiland, Berlin Glas e.V., Berlin
2015
"Mixed Pickles", CundKunterwegs Galerie, Berlin
"Voyage, Voyage", CundKunterwegs Galerie, Berlin
2014
"Beijing, Berlin Projekt, Ernst Barlach Museum Wedel, Wedel bei Hamburg
2013
"Stippvisite", CundKunterwegs, Berlin
"Thank God I'm pretty", Alexander Ochs Galleries, Berlin
"Guanlan International Print Biennal", Guanlan, China
"© Alle Rechte bei den Autoren - Künstler und die Literatur", CundKunterwegs zu Gast im / guest at "Luftraum", Berlin
"Salonlöwen im Kleinformat", CundKunterwegs zu Gast im / guest at Luftraum, Berlin
2011
Galerie Bodek, Hannover
2010
"Inter-Cool", Hartware Medienkunstverein, Dortmund
2009
"Walking the Dog", Kunsthalle Dominikanerkirche, Osnabrück
"Der Mops im Rettungsring", Frankfurter Kunstkabinett, Frankfurt am Main
"Junge Kunst aus Deutschland", Kunstmuseum Wuhan, China
2008
"hirschwegeinundzwanzig", Alte Darre, Kunstverein Coburg
2007
"Salzmond", Kunstraum Klosterkirche, Traunstein
2006
"Der Blaue Engel", Frankfurter Kunstkabinett, Frankfurt am Main
2005
"Back to the lines", Kunsthalle Dresden
2004
"Contemporary Art", Galerie Peter Frey, Wien
"Made in Germany", Galleria San Carlo, Mailand/Italien
"dipmaster 2", Wandergalerie Stephanie Bender, München
2003
"Internationale Grafik Triennale", Galerie Sztuki Wozownia, Torún/Polen
2002
"Grenzenlos – endlos. Miniatur in der Bildenden Kunst", Städtische Galerie, Fürstenwalde, Germany
Galerie Nord (Kunstamt Mitte Tiergarten), Berlin
"Positionen I", Galerie Michael Schultz, Berlin
2001
"Almauftrieb", Kulturbrauerei Prenzlauer Berg, Berlin
2000
"Zeitgenössische Grafik, Zeichnungen, Gouachen, Skulpturen", Kunstkabinett Regensburg, Regensburg, Germany
1999
"Holidays in Paradise", Galerie Michael Schultz, Berlin
1998
Galerie Peter Borchardt, Hamburg, Germany
1996
"Eins und Zwei, Arbeiten auf Papier", Kunstamt Pankow, Berlin
"Blaues Wunder", Galerie Michael Schultz, Dresden, Germany
"Projekt Berlin–Beijing", Lufthansa Seeheim und Deutsche Botschaft, Beijing, China

1995
"Rot – Arbeiten auf Papier", Galerie Michael Schultz, Berlin
1994
"Grafinnova '94", Österbottens Museum, Vaasa, Finnland/Finland
"Blau – Arbeiten auf Papier", Galerie Michael Schultz, Berlin
1993
"10. Internationale Grafik Triennale", Frechen, Germany
"Grafik Biennale", Maastricht, Niederlande/The Netherlands
1992
"Zeichnen – Zeichen Setzen", Kunsthalle Recklinghausen, Recklinghausen, Germany
1990
"Hagström, Teleman, Amrhein", Kunstmuseum Falsterbo, Schweden/Sweden
1989
"Klasse Stöhrer", Hochschule der Künste, Berlin
Sammlungen/Collections
Museen der Stadt Malmö, Schweden/Sweden
The Artist´s Book Collection, the Art Institute of Chicago, Illinois, USA
Museen der Stadt Bamberg, Germany
Kupferstichkabinett Berlin
Berlinische Galerie, Berlin
Collección Muñoz-Garcia, Madrid
Montblanc Collection, Beijing, China
Collection of the China National Printmaking Museum, Guanlan, China
Ringier AG, Zürich, Schweiz/Switzerland
Bibliografie/Bibliography (ausgewählt/selected)
2019
Die haben einen Vogel - Die Vogelmänner von Istanbul 30 Jahre Galeristin, eine Jubiläumsausstellung von Christiane Bühling-Schultz, hrsg./ed. Christiane Bühling-Schultz
2018
Heroes Just For One Day, hrsg. von/ed. C&K Galerie, Berlin
2017
The world starts turning, hrsg. von/ed. Kunstverein Fröndenberg, Fröndenberg, Germany
2014
Andreas Amrhein – Suddenly everywhere was the same place, hrsg. von/ed. Andreas Amrhein, C&K Galerie Berlin
2011
Suburbia, Galerie Borchardt, Hamburg
2008
Rapper's delight, Schultz contemporary, Berlin
2006
Großes Kino, Galerie Michael Schultz, Berlin
2005
Back To The Line, hrsg. von/ed. Kunsthalle Dresden
Berg und Tal, hrsg. von/ed. Kunstverein Bamberg und Kunstverein Talstraße, Berlin
2004
Arena, hrsg. von/ed. Kunstverein Talstraße, Halle an der Saale
Wahre Werte, hrsg. von/ed. Galerie Michael Schultz, Berlin
2000
Le roi qui rît, hrsg. von/ed. Kunstverein Salzgitter
1998
The soundless singing sea, hrsg. von/ed. Galerie Peter Borchardt, Hamburg
1992
Note Book, hrsg. von/ed. Deutsche Aerospace AG, München